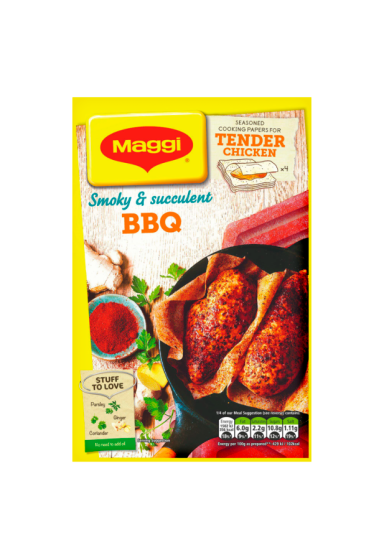 MAGGI So Tender BBQ Chicken Recipe Mix 25g
Maggi® So Tender® BBQ Chicken makes it easy to prepare deliciously BBQ chicken in the pan. Each pack contains four seasoned cooking papers, infused with a combination of herbs and spices to pan fry flavoursome, tender BBQ chicken with no need to add oil! An easy way to make delicious chicken in the pan for a dinner that the whole family will love. Our special Papyrus paper® contains all the flavour you need to season your meat whilst keeping it tender.
To use Maggi® So Tender® BBQ Chicken, add four skinless chicken breasts to your shopping list. Now you have your chicken, get ready to make a tasty dish. Following the instructions on the packet, simply wrap and press the meat in the BBQ seasoned cooking paper. Then cook the wrapped meat flat in the pan for deliciously tender garlic herb chicken. There you have it Maggi® So Tender® BBQ Chicken! For 2 of your 5 a day, why not make a meal of our BBQ Chicken with creamy sweet potato mash and corn on the cob?
Take a tip from Maggi® - try cooking with salmon fillets or pork if you prefer. So Tender® isn't just delicious with chicken!
Storage
Type: Ambient
Store in a cool, dry place.
Once open use within 14 days and do not refrigerate.
Sunflower Oil, Salt, Dried Vegetables (Garlic, Red Bell Pepper (4.8%), Tomato, Onion), Palm Oil, Sugar, Flavourings, Herbs & Spices (Parsley (3%), Ginger (2%), Black Pepper, Coriander, Cloves), Acidity Regulator (Citric Acid)
More Information
Per 100g as sold
Per 100g as prepared**
Per serving**
% RI*
Energy
1972 kJ
475 kcal
429 kJ
102 kcal
1502 kJ
356 kcal
NA
18%
Fat
37.3g
1.7g
6.0g
9%
of which: saturates
12.0g
0.6g
2.2g
11%
Carbohydrate
28.0g
11.1g
38.8g
15%
of which: sugars
14.6g
3.1g
10.8g
12%
Fibre
3.2g
1.8g
6.2g
-
Protein
5.3g
9.6g
33.6g
67%
Salt
20.18g
0.29g
1.11g
19%
| | | |
| --- | --- | --- |
| Celery | yes | May contain |
| Gluten | yes | May contain |
| Milk | yes | May contain |
Yes - according to the recipe with the addition
No - according to the recipe without the addition
n / a - no information
Preparation and Usage
1 - Preheat a large nonstick frying pan for 2 minutes, (Gas: low heat), (Electric: half of maximum heat). Do not add oil.
2 - Use one seasoning paper per chicken breast. Open out the seasoning paper and place the chicken breast (150g) on the seasoned side. Fold the paper over to wrap the chicken. Press down firmly and flatten by hand to a maximum thickness of 2.5cm.
3 - Place the wrapped chicken portions flat in the pan and cook for 10 minutes on each side (Gas: low heat), (Electric: half of maximum heat). Ensure the chicken is fully cooked and piping hot throughout.
Thicker Portions may take longer to cook. Enjoy your tender BBQ chicken with sweet potato mash and corn on the cob.
Cooking appliances vary. These instructions are given only as a guide. This product is not suitable for use in the microwave, oven, or the grill. If the seasoning starts to overbrown, reduce the heat slightly and increase the cooking time until the chicken is thoroughly cooked.