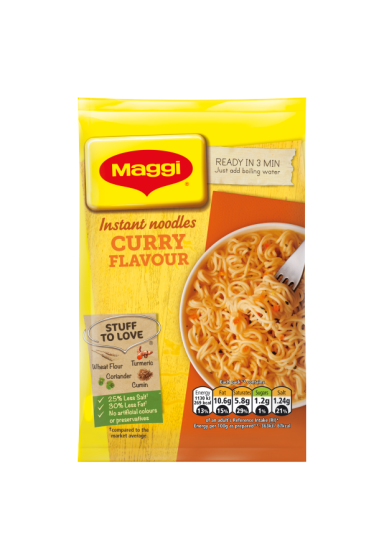 MAGGI 3 Minute Instant Noodles Curry Flavour 59g
Totally tasty and super convenient you always have enough time for a bowl of Maggi® 3 Minute Noodles! These iconic Maggi® noodles do just what their name says: enjoy a delicious bowl of curry noodles in just three minutes! And they're not just quick noodles they're delicious, too we make our classic Maggi® 3 Minute Curry Flavour Noodles with just the right balance of lightly spicy curry flavour, for the delicious curry taste that you love now with 30% less fat and 25% less salt.*
Why not try our tasty instant noodles with extra veggies and grilled chicken? Each pack of Maggi® 3 Minute Noodles is super versatile, and so simple to make, using either the kettle or the microwave.
To get started, simply break your Maggi® noodles into a bowl and add the curry flavour sachet. If you're using the kettle, boil the kettle and pour 250ml of boiling water over your noodles, before covering and leaving your noodles for 3 minutes. If you're using the microwave, pour 250ml of cold water over your noodles and heat in the microwave on high for 2 1/2 minutes. It's as easy as that!
*than the market average

Storage
Type: Ambient
Store in a cool dry place
Noodles: Wheat Flour (62%), Palm Oil, Wheat Gluten, Salt, Garlic, Acidity Regulator (Potassium Carbonates), Stabiliser (Sodium Polyphosphate), Turmeric, Seasoning Sachet: Sugar, Corn Starch, Herbs and Spices (Turmeric (0.35%), Coriander (0.23%), Cumin (0.13%), Fennel, Fenugreek, Black Pepper, Ginger, Red Cayenne Pepper, Cinnamon, Parsley, Aniseed, Cardamom), Salt, Corn Sauce (Corn Starch, Salt), Flavourings, Garlic, Yeast Extract, Vegetables (Onion, Leek), Sunflower Oil

More Information
Per 100g as sold
Per 100g as prepared**
Per serving**
% RI*
Energy
1924kJ
458kcal
367kJ
87kcal
1137kJ
271kcal
14%
-
Fat
17.9g
3.4g
10.6g
15%
of which: saturates
1.3g
0.2g
0.8g
4%
Carbohydrate
62.9g
12.0g
37.1g
14%
of which: sugars
2.1g
0.4g
1.2g
1%
Fibre
3.2g
0.6g
1.9g
-
Protein
9.8g
1.9g
5.8g
12%
Salt
2.05g
0.39g
1.21g
20%
| | | |
| --- | --- | --- |
| celery | yes | May contain |
| eggs | yes | May contain |
| milk | yes | May contain |
| mustard | yes | May contain |
| sesame | yes | May contain |
| soya | yes | May contain |
Yes - according to the recipe with the addition
No - according to the recipe without the addition
n / a - no information
Cooking Guidelines
Cooking Instructions - General
Cooking appliances vary.
These instructions are given only as a guide.
Caution: Contents will be hot!
Microwave - From Ambient
1 - Break noodles into bowl, add flavour sachet.
2 - Pour over 250ml cold water, stir and heat in microwave oven on High for 2 1/2 min (850 watt).
3 - Enjoy!
Other - From Ambient
Kettle
1 - Break noodles into bowl, add flavour sachet.
2 - Pour over 250ml boiling water, cover and leave for 8 min.
3 - Enjoy!
Preparation and Usage
Delicious as a side to your main or stir fry.
Tips for balance
Why not serve your noodles with frozen vegetables, peas or sweetcorn? For one of your five a day add 80g of vegetables per person when cooking.