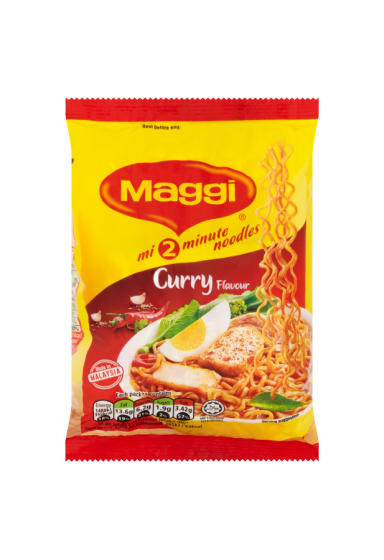 MAGGI Mi 2 Minute Noodles Curry Flavour 79g
Storage
Type: Ambient
Store cool and dry
Cooking Guidelines
Hob - From Ambient
Break noodles into 400ml boiling water and add the flavouring sachet. Stir and simmer for 2 minutes
These are guidelines only as cooking appliances vary.
Preparation and Usage
It's Good to Remember:
Add a twist to your noodles by adding vegetables and adding chicken or fish for protein!
Noodle Cake: Wheat Flour, Palm Oil, Salt, Anti-Caking Agents (Potassium Chloride, Potassium Carbonate, Sodium Carbonate), Thickener (Guar Gum), Humectant (Sodium Tripolyphosphate), Flavour Sachet: Salt, Flavour Enhancers (Monosodium Glutamate, Disodium Guanylate, Disodium Inosinate), Palm Oil, Tapioca Starch, Wheat Flour, Chilli, Sugar, Herbs and Spices (Coriander, Cumin, White Pepper, Aniseed, Turmeric, Fenugreek, Ginger, Clove, Cardamom, Nutmeg), Anti-Caking Agent (Potassium Chloride, Silicon Dioxide), Yeast Powder, Maltodextrin, Garlic, Flavourings (with Soya and Wheat), Onion, Colours (Plain Caramel, Paprika Extract), Acid (Citric Acid), Thickener (Guar Gum)

More Information
Per 100g as sold
Per 100g as prepared**
Per serving**
% RI*
Energy
1184kJ
448kcal
264kJ
63kcal
1488kJ
355kcal
18%
19%
Fat
17.2g
2.4g
13.6g
31%
of which: saturates
7.9g
1.1g
6.2g
19%
Carbohydrate
61.7g
8.7g
48.7g
19%
of which: sugars
2.4g
0.3g
1.9g
2%
Fibre
4.2g
0.6g
3.3g
-
Protein
9.7g
1.4g
7.7g
15%
Salt
4.33g
0.61g
3.42g
57%
| | | |
| --- | --- | --- |
| Celery | yes | May Contain |
| Crustaceans | yes | May Contain |
| Fish | yes | May Contain |
| Milk | yes | May Contain |
| Mustard | yes | May Contain |
| Soya | yes | Contains |
| Wheat | yes | Contains |
Yes - according to the recipe with the addition
No - according to the recipe without the addition
n / a - no information