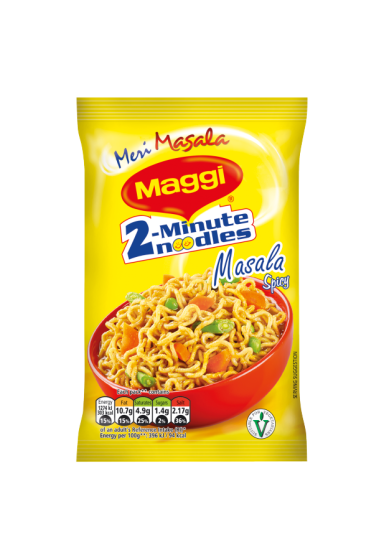 MAGGI 2 Minute Noodles Masala Spicy 70g
Bringing you classic Indian noodles, Maggi® 2 Minute Masala Noodles are simply delicious, quick noodles. Part of our World Foods range, these Masala noodles are made in India, and flavoured with authentic herbs and spices sourced and grown in India.
Maggi® 2 Minute Masala Noodles are so simple to make and are ready in just two minutes. Each pack contains a noodle cake and a Masala flavour sachet, ready to prepare a bowl of delicious masala flavour Maggi® noodles, free from Hydrogenated Vegetable Oil.

Noodles: Wheat Flour, Palm Oil, Salt, Wheat Gluten, Potassium Chloride, Acidity Regulators (Potassium Carbonate, Sodium Carbonate), Humectant (Pentasodium Triphosphate), Thickener (Guar Gum), Seasoning Sachet: Hydrolysed Peanut Protein, Noodle Cake* (with Gluten), Sugar, Spices (Coriander, Red Chilli Pepper, Turmeric, Cumin, Aniseed, Fenugreek, Ginger, Black Pepper, Cardamom, Nutmeg, Clove), Onion, Corn Starch, Garlic, Palm Oil, Salt, Colour (Sulphite Ammonia Caramel), Acidity Regulators (Citric Acid, Sodium Bicarbonate), Potassium Chloride, Flavour Enhancers (Disodium 5'-Ribonucleotides), *See noodles ingredients list
More Information
Per 100g**
Per Serving**
% RI*
Energy
396 kJ
94 kcal
1274 kJ
303 kcal
15%
Fat
3.3g
10.7g
15%
Carbohydrate
13.6g
43.6g
17%
of which: sugars
0.4g
1.4g
2%
Fibre
0.9g
2.9g
-
Protein
2.1g
13%
-
Salt
0.68g
2.17g
36%
of which: saturates
4.9g
25%
-
Yes - according to the recipe with the addition
No - according to the recipe without the addition
n / a - no information
Simply break the block of Maggi® 2 Minute Noodles into four pieces and put the noodles and the Masala flavouring into a pan of 225ml boiling water. Cook for 2 minutes whilst stirring occasionally and then serve.
With our World Foods range, we're proud to celebrate the fact that people all over the world love Maggi®. From Nigeria to India, whether you're looking for a taste of home or a chance to explore something new, you can find what you're looking for with Maggi® World Foods.

Storage
Type: Ambient
Store cool and dry
Preparation and Usage
2 Minutes to Great Taste
1 - Break the Noodles into four parts.
2 - Add Noodles and Flavour Sachet powder to 250ml of boiling water.
3 - Cook for 2 minutes in an open pan. Stir occasionally. Do not drain remaining water.