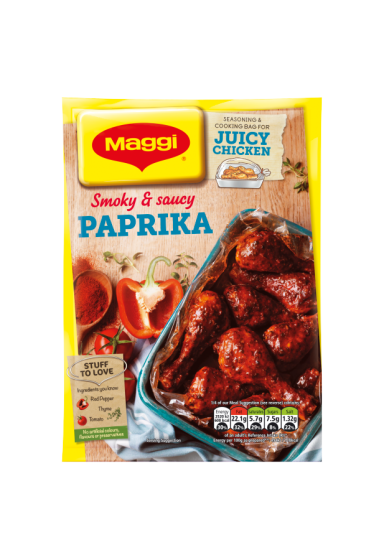 MAGGI So Juicy Paprika Recipe Mix 30g
Enjoy the classic sweet, smoky flavour of paprika with Maggi® So Juicy® Paprika Chicken. This packet provides the effortless way to make a tasty and juicy meal of So Juicy® Paprika Chicken with no mess or stress! The delicious mix of paprika chicken seasoning in our special So Juicy® cooking bag allows your chicken* to cook until tender and juicy in its own juices, meaning no need to add oil. Why not try one of our Meal Suggestions the whole family will love with the added benefit of providing 2 of your 5 A Day?
Each packet contains an aromatic mix of herbs and spices — including paprika, parsley, coriander, marjoram, black pepper, basil, ginger, cayenne chilli pepper, and thyme and a special cooking bag. Add chicken to your shopping list, and get ready to make a tasty dish. Following the instructions on the packet, just add the ingredients and the Maggi® So Juicy® Paprika Chicken recipe mix to the special So Juicy® cooking bag provided, mix it together and cook it in the oven! Serve with steamed rice, mixed peppers and broccoli for a mouthwatering meal in no time! There you have it, Maggi® Paprika Chicken.
*chicken not included

Storage
Type: Ambient
Cannot be Microwaved
Store in a cool, dry place
Vegetables (Potato, Onion, Tomato (8.9%)), Herbs and Spices (Paprika (17%), Parsley, Coriander, Marjoram, Ginger, Black Pepper, Basil, Thyme (0.45%), Red Cayenne Pepper), Corn Starch, Salt, Sugar, Beetroot Juice Concentrate, Lemon Juice Concentrate, Sunflower Oil, Flavouring

More Information
Per 100g as sold
Per 100g as prepared**
Per serving
% RI*
Energy
1251 kJ
297 kcal
494 kJ
118 kcal
2520 kJ
600 kcal
30%
-
Fat
4.3g
4.3g
22.1g
32%
of which: saturates
0.6g
1.1g
5.7g
29%
Carbohydrate
50.5g
11.3g
57.5g
22%
of which: sugars
17.8g
1.5g
7.5g
8%
Fibre
12.8g
1.3g
6.4g
-
Protein
7.7g
7.8g
39.6g
79%
Salt
12.75g
0.26g
1.32g
22%
| | | |
| --- | --- | --- |
| Gluten | yes | May contain |
| Egg | yes | May contain |
| Soya | yes | May contain |
| Milk | yes | May contain |
| Celery | yes | May contain |
| Mustard | yes | May contain |
Yes - according to the recipe with the addition
No - according to the recipe without the addition
n / a - no information
Preparation and Usage
1 - Preheat oven to 180ºC (160ºC for fan oven), Gas Mark 4. Do not exceed this temperature. Remove and unfold the cooking bag from top of the sachet, keeping the red tie for later use. Place the 8x 100g chicken drumsticks into the bag and add the seasoning from the sachet.
2 - Close the bag at the end using the red tie. Mix the ingredients together by gently turning the bag. Place the bag on its side into a large ovenproof dish, spreading out the ingredients. Do not pierce the bag. Place dish on the bottom shelf of the oven. The bag expands so ensure there is enough space between racks.
3 - Cook for 55-60 minutes. (35-40 minutes for 4 x chicken breasts). Remove from the oven, leave to stand for 2-3 minutes before opening the steam will be very hot. Ensure that the chicken is fully cooked through and piping hot. Serve the juicy chicken with couscous, steamed French beans and roasted peppers and courgette with sundried tomatoes and basil - see our serving suggestion to the left.
Cooking appliances vary. These instructions are given only as a guide. Bags are not suitable for microwaves or with switched on grill function.